16% Percent of Americans Moved in Past 12 Months, SpareFoot Survey Shows
Are Americans on the move again? A new nationwide survey indicates the percentage of Americans changing residences appears to be rebounding from an all-time low.
One in six American adults (16 percent) moved within the past 12 months, according to a survey commissioned by SpareFoot for the first-ever National Moving Day, which kicks off the summertime moving season. In the survey, most of the moves were short in distance, with 57 percent relocating just 25 miles away or less.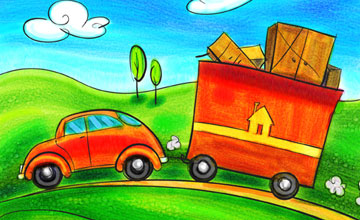 There's no place like home
In the SpareFoot survey, the most common reason given for relocating was to settle into a bigger or better home (18 percent). The No. 2 reason: moving for work (15 percent).
"The majority of moves take place within the same county, and certainly these kinds of moves are fueled to a great extent by a desire for bigger or newer homes as the family income increases," said Kevin Hagan, marketing director at Transit Systems Inc., a provider of moving and shipping services. "This trend took a hit during the recession, but the housing market is climbing back, although slowly."
Andrew Schrage, co-owner of personal finance website MoneyCrashers.com, said the high percentage of short-haul moves can be attributed, in part, to the prevalence of two-income families, making a longer move more difficult to pull off. Another possible explanation for moves 25 miles away or less, according to Schrage: Many Americans are moving in with family or friends to save money.
Mike Glanz, co-founder of HireAHelper.com, a website that helps people find moving labor, noted that some Americans still are struggling to find work or make mortgage payments. "After losing a house or not affording rent, many will be forced to move but stay close by for school, work or family," he said.
The U.S. unemployment rate in March was 7.6 percent, according to the U.S. Labor Department. Meanwhile, 7.25 percent of all mortgage loans outstanding at the end of the first quarter of 2013 were delinquent, according to the Mortgage Bankers Association.
As for relocating to bigger or better homes, Schrage said that as home prices climb, more people can afford to upgrade because they're able to sell theircurrent homes at prices that are higher than they would have been just a few years ago. During the first quarter of this year, the median price for existing single-family homes rose in 133 of 150 U.S. metro areas, according to the National Association of Realtors.
The moving period for the SpareFoot survey stretched from spring 2012 to spring 2013.
According to the U.S. Census Bureau, 12 percent of Americans older than age 1 changed residences in 2012. That was up from a record low of 11.6 percent for moves between 2010 and 2011.
The South reigned as the region with the highest percentage of movers in the SpareFoot survey (19 percent), followed by the West (18 percent), the Midwest (14 percent) and the Northeast (12 percent).
Moving Tips
Whether we're going 25 miles or 2,500 miles, moving certainly is something we dread. Indeed, a survey by moving comparison website Unpakt.com and polling company Harris Interactive found that Americans would prefer activities like going to the dentist or doing their taxes rather than moving.
"Organizing a move is a complex process," said Manuella Irwin, a relocation expert at MyMovingReviews.com. "One wrong move can cost you a lot of money and emotional distress. Making the right choices will significantly facilitate the moving process so you can enjoy an easy and stress-free move."
In the SpareFoot survey, 38 percent of movers identified packing and unpacking as the worst part of moving. The No. 2 answer: finding a place to live (19 percent).
Keep in mind that if you're moving, you'll be shouldering much of the burden yourself. According to the Unpakt survey, 88 percent of Americans tackle moves on their own rather than hiring a moving company.
Here are some tips to help ease the pain of packing and other moving tasks:

If you can, start packing well in advance—weeks or even months ahead of time. Out-of-season clothing and holiday decorations are among the items that can be boxed up first, Hagan said.


Place a colored sticker on each box based on the room where it'll land--for instance, red for the kitchen and blue for the main bedroom, according to Unpakt.com.


Always assume you'll use more boxes, packing tape, bubble wrap and other moving supplies than you initially thought, Hagan said.


Make packing and unpacking simpler by weeding out unneeded or unwanted items, such as old toys or old furniture, Schrage said. These castaways can be sold or donated.


Keep important documents with you during the move, including birth certificates and bank records, according to Unpakt.com.


Pack a box of must-have items, including toiletries and several days' worth of clothes, according to Unpakt.com.


Recruit some volunteers for packing and unpacking, Glanz said. "It might not seem like something you'd want to invite friends to participate in," he said, "but having fun conversation and some food helps distract you from the monotony."


Survey Methodology
In three surveys, Princeton Survey Research Associates International (PSRAI) obtained telephone interviews with a nationally representative sample of 3,004 adults in the continental United States. Telephone interviews were conducted by landline (1,501) and cellphone (1,503, including 745 without a landline phone). The surveys were done in English by Princeton Data Source from April 25-28, May 2-5 and May 9-12, 2013. Statistical results are weighted to correct known demographic discrepancies. The margin of sampling error for the complete set of weighted data is plus or minus 2.1 percentage points.