Searching for a self-storage facility in your area? You've come to the right place. With more than 7,000 self-storage facilities on our network, SpareFoot is the world's largest self-storage marketplace. The self-storage unit you need is just a simple search away.
Before you do begin your self-storage search, you may want to learn more about the self-storage business and the current state of the self-storage industry-- industry that is fast-growing and larger than you might expect. The industry has exploded over the past few decades and continues to undergo huge changes.
Over the past 35 years, the self-storage industry has grown faster than any other segment of commercial real estate. Most of the growth in self-storage facilities occurred during the past decade and a half. The Self Storage Association reports that the first billion square feet of self-storage space in the U.S. was constructed over a period of nearly three decades, while the second billion was constructed between 1998 and 2005--only eight years.
Growth was most explosive during the early part of the new millennium, as new storage businesses sprouted up across the country to keep up with the furious growth of housing during that period, with over 8,694 new self-storage facilities being constructed between 2004 and 2006.
Though the number of self-storage facilities isn't currently growing at quite the pace it was during the early 2000s, strong demand has made sure that the industry continues to be one of the most robust of all commercial real estate sectors. Self-storage facility occupancy levels were around 85 percent as of mid-2013, meaning that demand among renters remains high and should spur a faster rate of growth in the coming years. As the economy and particularly the housing industry begin to pick up once more, self-storage facility growth levels may very well return to their pre-recession heights.
One of the greatest strengths of the self-storage industry is its ability to resist the economic downturns that have stalled other industries. While facility construction was at its highest when housing growth was extremely strong, occupancy rates actually grew at a rapid rate during the recession years. Few other industries have a track record of such stability, particularly within real estate.
The self-storage industry's resilience is likely due to two primary factors. One of them is the varying length of leases for self-storage units. Short-term leases (those that last only a few months) lend the market greater strength than other real estate sectors, allowing facility operators to react to and engage with current market trends, while long-term leases (those that last for a year or more) give facilities stable, reliable income.
The second primary aspect leading to the industry's strength is its diverse customer base, thanks to the simplicity of self-storage and its appeal to an array of consumers, such as college students and new homeowners.
The Geography of Self-Storage
An estimated 60,000 self-storage facilities are located worldwide, with the U.S. holding the lion's share--about five-sixths. About 10,000 to 12,000 self-storage facilities are operating in other countries, including Canada, the United Kingdom, Australia, France and Japan. Self-storage is just beginning to catch on in China and Brazil, two countries where the potential for growth is promising.
Self-storage facilities are scattered across the U.S., with about 84% of counties having at least one facility. About half of self-storage facilities are in urban areas.
The self-storage industry contributes significantly to the U.S. economy. Self-storage facilities pay upwards of $3.25 billion in property taxes to local governments every year and employ more than 172,000 people.
Who's Renting Self Storage?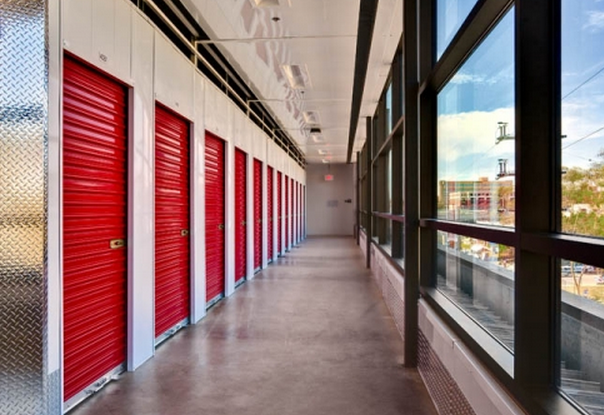 Indoor self-storage units
One in ten American households rents a self-storage unit, with 21 square feet of storage space per U.S. household. The self-storage consumer comes from all walks of life, but certain trends are noticeable.
For example, according to the Self Storage Association, 68 percent of those renting self-storage units are in single-family households. Meanwhile, 27 percent live in a condo or apartment. In terms of income, 47 percent of those renting self-storage live in a household where the annual income is lower than $50,000.
While we may think that most people who rent self-storage live in smaller places and lack room for storage, that's actually not true of the majority of self-storage renters. 68% of those who rent self-storage live in a single-family household, while only 27% live in an apartment or condominium. Sixty-five percent of those who rent storage have garages, while 47 percent have attics and 33 percent have basements, meaning that these traditional storage spaces are not adequate for most self-storage renters.
While a need for more space may prompt people to rent self-storage space, that tells only part of the story. According to a survey conducted for our September 2012 Quarterly Trends report, 59 percent of those renting self-storage did so as part of a move into a new home. Meanwhile, 13 percent of people surveyed said that they were students renting self-storage during a housing transition, 10 percent indicated that family reasons motivated their rental, and 2.5 percent told us they were renting self-storage while remodeling or renovating their homes. Nearly 13 percent of respondents rented storage for other reasons.
On the other hand, a survey conducted between March and May for our July 2013 Quarterly Trends report indicated how much the reasons for renting self-storage changed depending on seasonality: in March, 69.3 percent of respondents told us they were renting storage as part of a move, while only 3.7 percent were college students. By May, those numbers had changed significantly: only 43 percent of respondents were renting for a move, while 38.7 percent were college students.
Most of those searching for self-storage are planning on staying in their units for a longer period than just a few months. In fact, the majority of self-storage renters report that they plan on keeping their self-storage units for more than a year. Only 13 percent of renters planned to stay for less than three months, while 18 percent planned to stay between three and six months and another 18 percent planned to stay for seven to 12 months. Fifty-two percent of those renting self-storage planned on doing so for more than a year, with 22% of those planning on staying for between one and two years and 30% of those planning on staying for longer than two years.
Military families account for about 6 percent of all self-storage rentals. Families near military installations occupy anywhere from 20 percent to 95 percent of the self-storage space in those areas. Self-storage facilities encourage military families to rent by offering discounts and specials.
Self-Storage: A Maturing Industry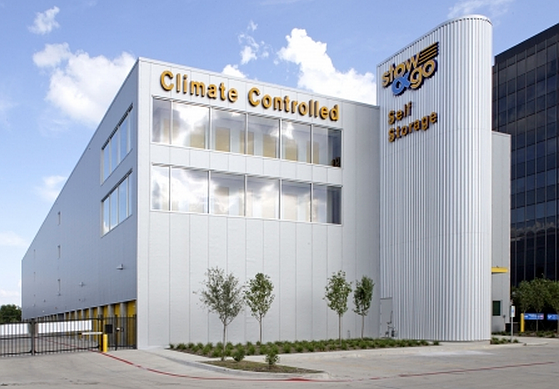 A modern indoor self-storage facility
For years, self-storage remained almost uniformly simple, which is likely a reflection of how basic the service of offering storage space essentially is. Nearly every self-storage facility was of the drive-up type, with rows of units accessed directly from the outside via garage door. While this staple template remains prominent at many self-storage facilities, the industry has matured to offer more services and amenities that require new facility configurations.
The one that stands out the most has been climate-controlled self-storage. Essential for the preservation of temperature and humidity-sensitive items like furniture and electronics--particularly in regions of the country that experience extreme temperatures and humidity, the demand for climate-control drove facilities to make significant technological upgrades to what was an essentially low-tech service. The result: the emergence of a new style of self-storage facility, with units housed inside an often multi-story building with interior hallways. With their smaller footprint, climate-controlled self-storage facilities have been able to move into more urban, densely populated areas.
The rise of the more technologically sophisticated, interior climate-controlled facility (and perhaps the branded look of REIT-owned facilities) has boosted customer expectations of self-storage facilities, which in turn has pushed facility operators to renovate and improve their facilities. Today, the top facilities look less like dusty rows of garages and more like high-tech office buildings.
One of the more interesting trends is the "greening" of the self-storage industry. Many self-storage facilities--for a combination of reasons, ranging from concern for the environment to cutting energy costs to appealing to more eco-conscious customers--have decided to go green. Such facilities undertake green measures like installing solar panels or adding high-efficiency climate control systems.
How Online Self-Storage Marketplaces are Revolutionizing the Industry
The Internet has had a huge effect on nearly every industry, and self-storage is no exception--although it may have been a bit later to the game than others. Over the past decade, consumers have moved overwhelmingly away from finding things through traditional channels (like phone books) to the Internet, where search engines like Google and Bing allow them to quickly locate businesses nearby. In even more recent years, the proliferation of web-equipped mobile devices has placed access to the Internet at users' fingertips at all times, no matter where they are.
While search engines are wonderful for locating relevant websites, they're far from a perfect way to help search for self-storage. Smaller facility operators often lack the resources to build competitive websites that can compete against the larger operators and REITs in search activity, meaning they'll lose customers to the bigger players. This means consumers lost out, too, as they'd only find the facilities with the best online presence, not the facilities that are necessarily best for them.
But an even greater obstacle for consumers was the fragmented nature of online searches for self-storage. Consumers would be forced to visit different websites, hopping from one to the next comparing locations, prices and services. Sometimes they'd even have to pick up the phone and call the facility to get a price quote or make a reservation. If the consumer wanted to read what other consumers had said about a specific self-storage facility, they'd have to skip around to different review sites and hope that someone, somewhere had collected the information they needed. It was a poor consumer experience that other, similar industries had long done away with.
Then online self-storage marketplaces like SpareFoot began to emerge. Taking cues from related industries that had solved the issues of online fragmentation and the poor user experience offered by search engines, these marketplaces began to combine everything a consumer might need into a one-stop shop for self-storage. Their data would be more accurate than Google's, their coverage would be complete, and they'd be able to communicate directly with self-storage facilities. Now, consumers can go to SpareFoot, search for the facilities nearest them, filter for amenities like climate control or by size, compare prices, browse through details about the facility, look at pictures of the facility, read reviews from other self-storage renters, and then book a self-storage unit. Renting self-storage has never been easier.