Tiny House Storage Ideas
Considering transitioning into a tiny home? If so, this can definitely be a major lifestyle change for people accustomed to life in a home with average floor space. One of the most challenging aspects of the change is making do with the space you have and having enough storage space for everyday belongings. Nevertheless, if you can make it work, tiny house life is said to be both economical and rewarding. How do you get more space in a tiny house? Check out a few tips below.
First, Tiny House vs Normal Size House
Realtor.com defines a tiny home as a residential house that is generally between 100 and 400 square feet, and rarely ever over 500 square feet of floor space. By contrast, a standard-size home on average is more than 2,500 square feet. This means tiny homes can be a quarter or a fraction of the size of a typical house, so creative storage solutions are no doubt important.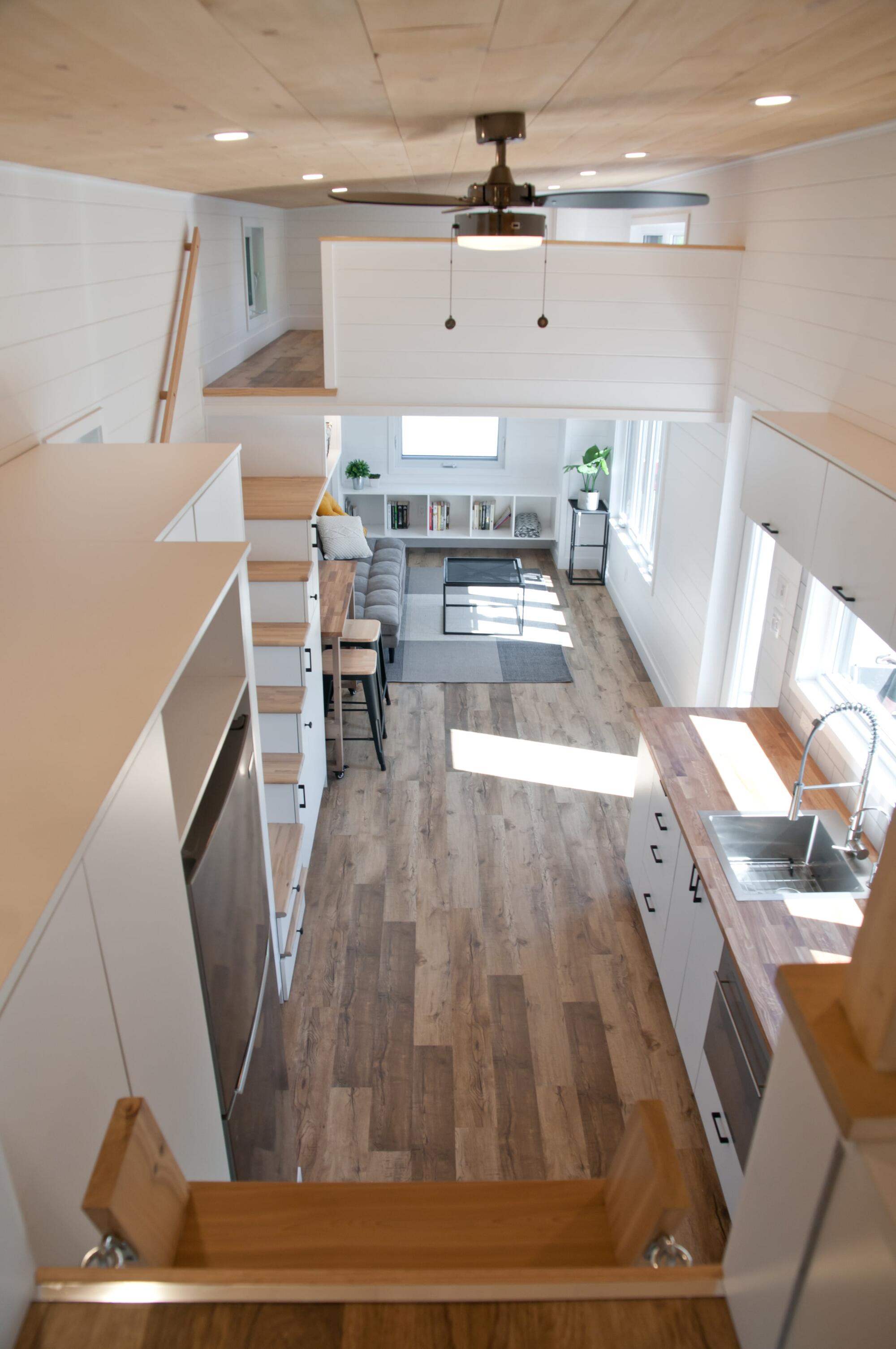 Credit: mini maliste
How Do I Get More Storage for My Tiny House?
Making extra room for belongings in a tiny home takes a combination of creative thinking to save space, a clutter control mindset, and making the most of the small space you have. Here are some ideas for your small space.
Built-In Cabinets or Hidden Compartments
Opting for built-in kitchen cabinets affords you more flexibility when it comes to storage space. For example, if you purchase pre-built cabinets, these can involve wasted space over the wall-mounted sections or on the lower cabinets at the toe-kick. If you go for built-in cabinets, you can opt for things like hidden drawers in the toe-kick or extra cabinets on top for added cabinet space.
Under-the-Bench and Under-the-Stair
Storage Solutions
A lofted tiny home allows more opportunities for storage solutions. If your tiny home has stairs to a loft, each stair can become a hidden storage compartment. The surface you step on can be mounted with hinges so the tops open for extra space. This same idea can be used for storage space in bench seats, which can be built in as a hidden storage solution.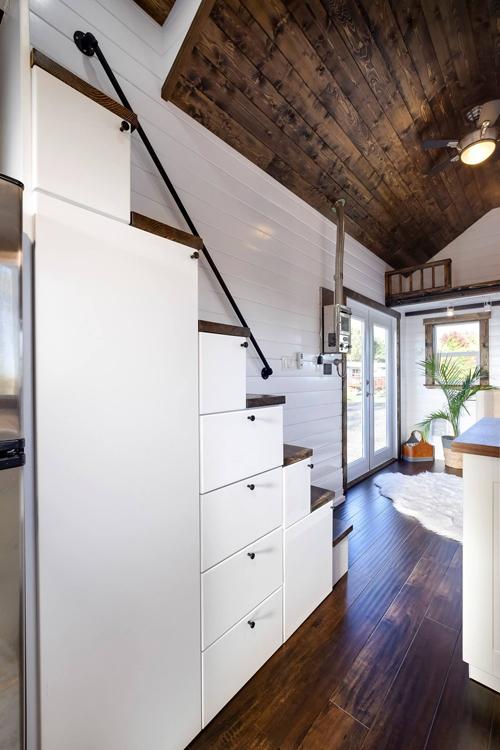 Credit: Tiny Living
Pantry

Storage and Organization

A pantry is a must for food storage and even to save counter space, but your tiny home may not have enough space for a full-size pantry. The key is to create a pantry that allows as much space utilization as possible. For example, a pantry cabinet with ample shelving allows you more storage space so you can use all the vertical room available.
Kitchen Organization
In the kitchen, consider things like pot racks, wine bottle holders, and hidden trash bins to save floor, cabinet, and counter space. The more you can make use of the space you have on the walls and ceiling the better. Organization here is key, and the less clutter you have the more open the space will feel.
Credit: Tiny House Listings
Bathroom

Organization

Follow the same space-saving principles in the bathroom. Use as much vertical space as possible, consider built-in cabinets and shelves, and use creative storage solutions like hanging towel racks and tension-rod storage shelves in the shower or corners.
Furniture that Doubles as Storage
Furniture that doubles as storage can be one of the most valuable things a tiny home-owner can have. This may be a sofa with a hidden storage compartment, an ottoman with a spot for blankets inside, or even a side table with built-in drawers.
Credit: The Tiny Life