Let's face it, America: we all own too much stuff. We know it. We don't like to think about it. And we sure as heck don't want to bury our kids in it when we finally upload.
Fortunately for the flummoxed among us, Swedish artist Margareta Magnusson has crafted the perfect solution in her bombshell of a book, "The Gentle Art of Swedish Death Cleaning: How to Free Yourself and Your Family from a Lifetime of Clutter."
How good is it? So good that it's topping the bestseller lists in 32 countries and counting! Now that's what I call cleanin' house!
The Swedish-born Magnusson, who lists her age at between 80 and 100, is a trained artist who traveled the world with her husband and five children. Magnusson became an ambassador of the Swedish decluttering tradition known as dostadning (do means death, stadning means cleaning) through firsthand experience. She has made 17 moves and cleaned out the homes of her parents, in-laws and friends, as well as downsizing when her husband died from a five-bedroom home to her current two-room apartment in Stockholm.
If you tried but failed to incorporate Marie Kondo's gently logical, Zen-inspired "The Life-Changing Magic of Tidying Up" into your muddle, Magnusson's dry, unsentimental and often darkly funny tome, peppered with her uplifting sketches, should slap some sense into your inner home organizer.
Why?
Because it acknowledges the obvious: if you have too much stuff, why dump it on your kids? The whole family ultimately benefits by embracing the cozy minimalistic outcome of death cleaning.
Here's how you can master Swedish death cleaning:
1. Get the Family on the Same Page
It can be awkward at best to bring up your parents' demise with them, much less casually segue into why you don't want all their stuff. Magnusson suggests calling a family meeting, then gently raising the issue with some questions:
"You have many nice things. Have you thought about what you want to do with it all later on?"
"Do you enjoy having all this stuff?"
"Is there anything we can do together in a slow way so that there won't be too many things to handle later?"
Ultimately, you want the family to agree on one thing: "A loved one wishes to inherit nice things from you. Not all things from you."
2. Start Where You Store
Let's face it, things wind up in our attic, cellar and front-door nooks for a reason.
"Many of the things you have in storage have probably been standing there for ages," Magnusson says. "You may even have forgotten what it is you have there. Good for you, because you will now realize that you will not miss anything if you throw it away."
3. Choose Easy Categories First
First, break your belongings into categories: furniture, clothes, books, linens, hobby stuff, etc. Next, start with a couple easy categories: "An easy category is one with many items to choose from and without too much sentimental connection," explains Magnusson, whose favorite starter is clothes. Finally, designate two piles: keepers and tossers.
4. Don't Get Sidetracked by Memorabilia
"It can be both a lot of fun and a bit sad to go through photographs and letters, but one thing is certain: if you start with them, you will definitely get stuck down memory lane and may never get around to cleaning anything else," Magnusson says.
5. Cut the Visual Clutter
We go in knowing we have too much stuff. One way to begin to thin is right before our eyes. "I feel comfortable in a home that is reasonably orderly," Magnusson admits. "I don't want anything that my eyes do not like. If I have a beautiful chair, I am not going to put my dirty laundry on it. Life will become more pleasant and comfortable if we get rid of some of the abundance."
6. Organize Before You Discard
In some cases, simple solutions can speed up cleaning by simply bringing order to chaos. Magnusson recalls having to constantly hunt for the cabin key during her yachting days to lock up every time they went ashore.
"Beautiful islands were everywhere around us, yet every adventure off the boat began with a bad mood that affected us all and was always caused by the hunt for the key," she recalls. "If you find yourself repeatedly having the same problem, fix it! A hook costs nothing."
7. When in Doubt, Seek a Second Opinion
"If you decide to downsize your home on your own, you may want to talk to someone about it, someone who isn't family and doesn't have a sentimental connection to the items you want to get rid of," Magnusson advises. "That will help you look at your work – or even other dilemmas – from fresh angles."
8. Turn Downsizing into Child's Play
Prior to what she plans to be her last move into her two-bedroom Stockholm apartment, Magnusson designated one sheet of paper for each room in her home with columns labeled Give Away, Throw, Stay and Move. Then she went to her new apartment and measured every room onto a large pad of graph paper. Finally, she measured the furniture she planned to keep, sketched them to scale on another piece of graph paper and cut each piece out and labeled it.
"Then it was easy to furnish my new rooms by pushing around all the squares and rectangles of paper in the floorplan I had outlined," she said. "Moving into the new place was easy since I already knew where all the things fit. I felt very happy and content that I did not have to ask for help later on to move things around once I had settled in."
And finally, if you're still not sure if Swedish death cleaning is right for you…
9. Remember the Vikings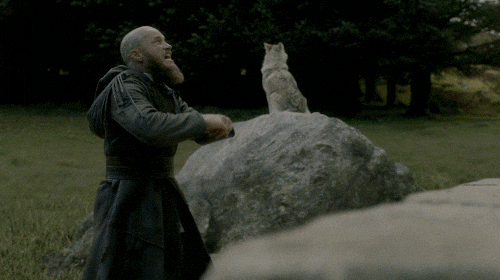 "When they buried their relatives, they also buried many objects together with the body," Magnusson writes. "This was to be sure that the dead would not miss anything in their new environment. Can you imagine the same scenario today? With all the skrap (Swedish for "junk") people have now, they would have to be buried in Olympic-sized swimming pools so that their stuff could go with them!"
Featured photo by Alexander Mahmoud